Set Up: Managing Domain Aliases in cPanel
Domain aliases are domains that you own, but which do not contain any content. Instead, they point to the contents of another domain or subdomain on your hosting account. This is useful, for example, to hold a domain that you will later sell, or to redirect traffic to another domain.
Domain aliases are also known as parked domains.
Number of domain aliases you can add onto your account:
The number of domain aliases you can add onto your hosting account:
Doteasy Basic Hosting – 10
Doteasy Unlimited Hosting – unlimited
Doteasy Business Hosting plans – unlimited
Difference between addon domains and parked domains
An addon domain is a domain that you add on to your hosting account so that it has its own folder within public_html and appears as a separate domain. This allows you to have two separate domain names and websites on your hosting account.
An alias, or parked domain, is a domain that simply points to your main website on your account. It is an alias domain name and does not have an associated website. Instead, it will point to the same web pages as your primary domain name.
For example, yourdomain.com/index.html and yourparkeddomain.com/index.html will point to the same webpage "index.html".
You can add an alias domain using the Aliases tool in cPanel.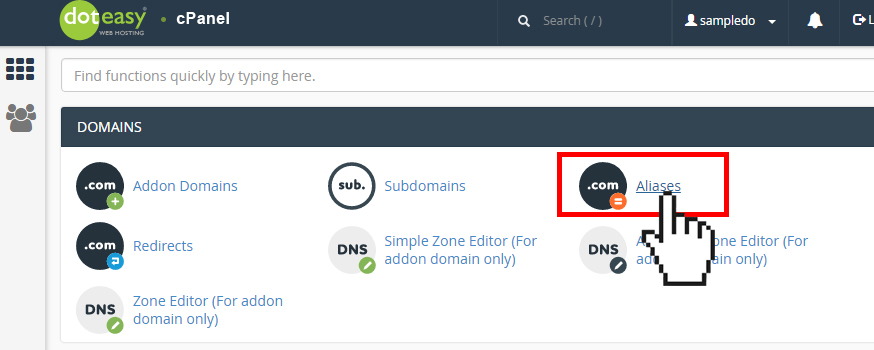 NOTE: Just like an addon domain, to use a parked domain, you must first register the domain name. Additionally, you must configure the parked domain's DNS records to point to your hosting account's nameservers.