How to find the hosting package that best fits me
Choosing the best web hosting plan for your website can be a daunting task, especially if you are new to websites and web servers.
But it shouldn't be intimidating.
Choosing a good web hosting plan is very similar to how you choose a smart phone. You do not need to learn every component or feature inside a smart phone; likewise, you do not need to have a deep knowledge to pick a good hosting plan. The only thing you need to know is what makes a hosting plan stand out from the others and if it has the features that your website needs.
Knowing your website needs
You can never get the right web hosting plan without knowing what you need.
Here are some of the basic questions you need to answer before deciding on a web hosting plan:
What kind of website are you building?
Do you want anything in particular (ie. a WordPress blog or an osCommerce shopping cart, for example)?
Do you need specific scripting support (ie. PHP, ASP.NET, for example)?
If you are new to websites, the no-brainer rule is to start small with a shared hosting account.
Shared hosting is the most popular option to start
Shared hosting is the most affordable and most popular option, making it a great hosting plan to start. With shared hosting, you will be sharing the server resources between you and the other customers on the same server. The advantage of this setup is that it keeps costs low for everyone.
Shared hosting is ideal for personal and small business websites. This includes a portfolio, hobby site, personal blogs, company website, simple online store, etc.
For example, if you are simply running a straightforward WordPress blog or osCommerce, you can get by just fine with a shared hosting plan. Shared hosting is also a great option if you are on a tight budget.
Gone are the days where you need to purchase additional scripting support, manually install scripts and configure databases just to run WordPress on your website. Today, you will find that most shared hosting plans on the market come with some sort of auto script installer for plug-and-play scripts, including WordPress and osCommerce.
For example, all Doteasy shared hosting plans comes with the one-click Softaculous script installer, allowing you to install various applications in just a simple click.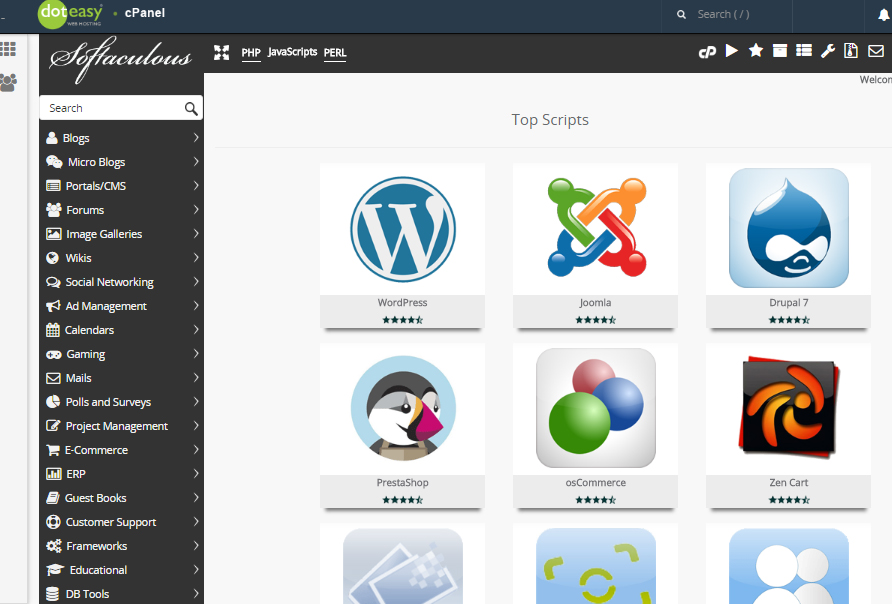 However, if you are running a custom application on a complex framework, you might find that shared hosting plans do not provide you with the flexibility you need. In these cases, you might to consider a higher-level hosting plan, such as VPS or dedicated hosting.
What makes a shared hosting plan stand out from the others
Features to consider when choosing the best web hosting plan for your website:
Hosting signup and renewal cost
Subscription period
Refund policy
Ecommerce features
Email features
Support channels
Hosting signup and renewal cost
You will often see hosting deals selling very cheap on signup but charge much higher on renewals. Unfortunately, this is an industry norm and unless you are planning on hopping between web hosts every year or two, there is no way to avoid the pricier hosting renewal costs.
In addition, many web hosts throw in a free domain name registration at the time of hosting package signup, but when time comes for you to renew your hosting plan, you find out domain renewal is not included (which isn't in most cases).
To avoid any unpleasant surprise, you should check with your web host to make sure you are okay with the hosting renewal prices before signup, as well as inquire about the additional domain renewal costs.
For example, the Doteasy Starter plan comes with a 1-year free domain name registration, but this offer is only for the first year of the domain registration and if you want to continue using the domain name, you will need to pay the $15 domain renewal fee in addition to the $5.75/month web hosting fees.
On the other hand, the Doteasy Unlimited Hosting plan also comes with a free domain name registration, but this offer is valid for as long as your Unlimited Hosting plan is active. This means, whenever you renew your Unlimited Hosting plan for another annual term, we will auto-renew your domain name for you for free.
Subscription period
You may find some web hosts lure customers to take up unreasonably long contracts in order to enjoy ridiculously low hosting deals.
Should you commit to long term hosting contracts? No. Never signup for more than 2 or 3 years upfront unless the web host offers a clear anytime money back guarantee.
Refund policy
Should you need to cancel your hosting contact, does the web host provide any pro-rated refund on the unused service? What about cancellation charges?
There are many ways to find out how the web host handle customer refunds but be careful of what you read on the many user review boards or forums on the Internet. Don't let one negative feedback deter you. Instead, call or email the web host and ask them for their refund policy.
Ecommerce features
If you are planning on running an ecommerce website, you will need to pick a web hosting plan that offers sufficient ecommerce features. Some of these features include SSL certification, dedicated IP, one-click shopping cart software installation.
For example, if you want to run a shopping cart on your website, the Doteasy Unlimited Hosting plan would be a better choice than the Doteasy Starter plan as the Unlimited Hosting plan comes with a free shared SSL with the option to install a dedicated SSL certificate.
Email features
Most web hosting plans come with the ability to create your own domain email address (ie.you@yourdomain.com). Other email features that you need to look for may include number of domain email accounts allowed, email storage quota, webmail, IMAP, spam protection, email forwarding, etc.
Support channels
Do you prefer email or phone support? Or is it more important that your web host offers a comprehensive library of documentation, step-by-step guides and tutorial videos? Another important question to ask is, do you have to pay extra to get additional support?
For example, some web host offers documentation or a knowledgebase as their main support channel and if you need to speak or email with a real person, you need to upgrade your package.
Rest assured that at Doteasy, you can access all support channels free of charge, regardless of your hosting plan subscription. If you prefer talking to someone, we have phone support as well as a call-back system. If you prefer typing, we have a Live Chat where you can get answers in real-time or you can also use our email service ticketing system. If you prefer self-help, we have an extensive collection of articles in our knowledgebase, official Doteasy blog, tutorial channel (YouTube) and more.
What about disk quota and monthly traffic allowance?
You may have already read from the many web hosting articles that disk space and data transfer shouldn't be a top comparison factor when shopping for the best we hosting plan. This is especially true if you are new to websites.
A quick research will show you that almost all shared hosting providers offer "unlimited" storage and data transfer. However, rarely will you run into the problem of maxing either out – and if you do, its means your website is very popular and you should consider a more powerful web hosting environment (ie. cloud, VPS or dedicated).